What is the Daily Sparkle?
The Daily Sparkle is a reminiscence newspaper specially developed to provide daily stimulation, interest, enjoyment and fun for older people and people living with dementia.
It is a daily newspaper which is about the world many older people live in, a world which we see as the past, but which is often their experience of reality. The articles trigger memories of times when they often felt happier. The Daily Sparkle helps older people feel good about themselves.
The Daily Sparkle evokes feelings of happiness and enhanced self-esteem. It also provides the perfect opportunity for interpersonal engagement. With its short, easy-to-digest articles, older people enjoy sharing their precious memories with others, paving the way to building relationships with staff and other residents.
What makes it so special?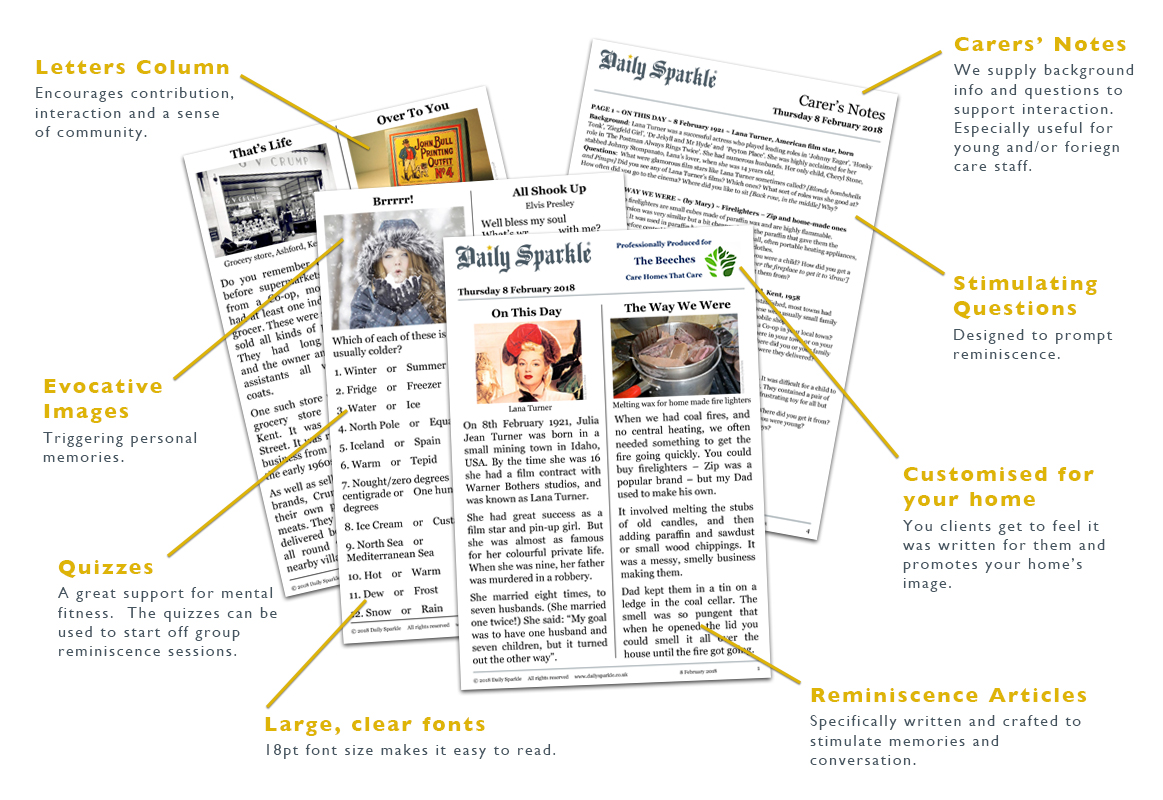 Who is the Daily Sparkle for?
For Residents
Ultimately, the Daily Sparkle is built around one mission: improving the quality of life for residents living with dementia. Thousands of residents are already enjoying the benefits the Daily Sparkle brings.
With a readership of over 100,000, the Daily Sparkle is found in care homes, day centres and hospitals up and down the country.
For Activity and Non-Activity Staff
The Daily Sparkle can help care home activity co-ordinators to be better at what they do, providing them with a simple way to connect with residents and get off on the right foot.
It also helps non-activity staff, whatever their role and background, to move away from being overly task-focused and embrace a new way of relating to residents. This is in line with the Whole Home Approach, an integral part of the care home ratings system and an approach deemed essential by the CQC for an 'outstanding' score.
For Managers and Stakeholders
For care home managers, the Daily Sparkle helps with branding, compliance and stakeholder relations.
Just placing copies in communal areas marks your home or centre as a place where residents will be stimulated as well as cared for physically. However, you can strengthen your branding further by including your home's name on the cover of the Daily Sparkle and referencing it on your website.
The Daily Sparkle is also perfect for helping to ensure compliance with the Care Standards Act where it covers the provision of therapeutic activities. It also helps care home managers to comply with the Core Competencies set out by the CQC, to embody the ethos of the Dignity in Care Campaign and to support the growing importance of "Participation" in care homes.
For Everybody
The power of the Daily Sparkle to bring people together extends beyond residents and staff. Relatives and other visitors often enjoy reading and talking about articles and the other activities within its pages. The Daily Sparkle adds another fun and rewarding dimension to their visits.